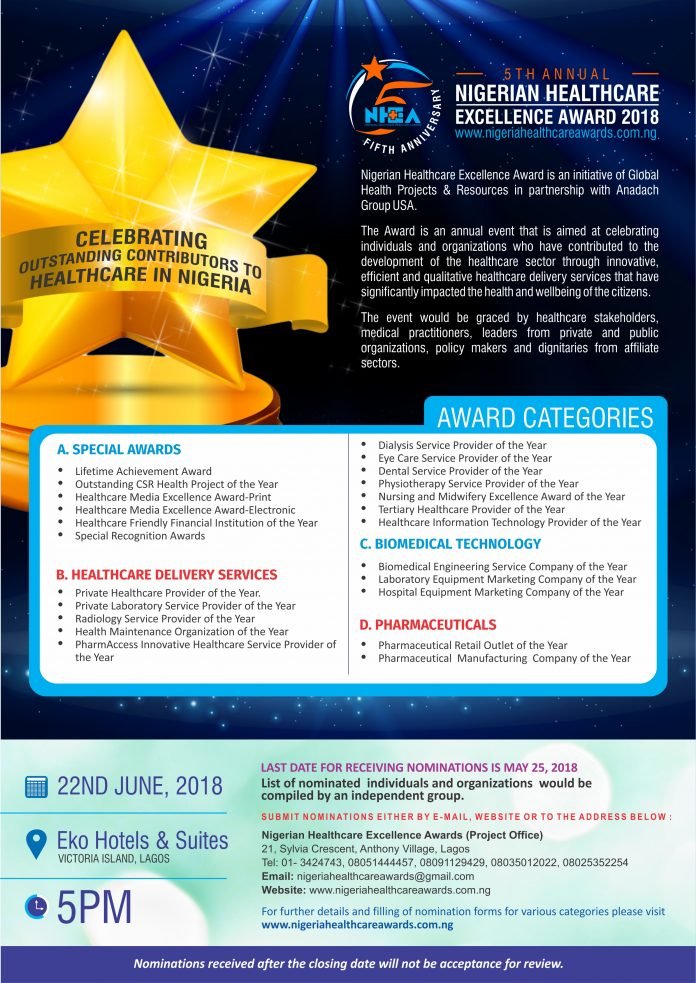 The 5th edition of the Nigerian Healthcare Excellence Award (NHEA) 2018.
NHEA, the Oscar of Nigerian healthcare is an annual event where we recognize and celebrate outstanding personalities and organizations for their extraordinary contributions to healthcare in Nigeria. NHEA recognitions and celebration of Nigeria healthcare champions has engender various stakeholders to become more conscious of their standards, services rendered and strive for excellence.
NHEA is an initiative of Global Health Project and Resources (GHPR) in collaboration with Anadach Group USA. GHPR is one of West Africa's leading Healthcare Management and Consultancy company, we are involved in the promotion of healthcare business in West Africa.  The company has amassed wealth of experience from managing various healthcare projects from trainings, exhibitions, awards and surveys to deployment of Information Technology solutions.
Since inception, NHEA has presented 88 awards and we have continued to receive avalanche of commendations for the event, which has hosted over 1,500 healthcare stakeholders as well as dignitaries from affiliate sectors within Nigeria and abroad.
For further enquires please contact the undersigned on +2348035012022, +2348051444457, and +2348091129429, or visit our website www.nigeriahealthcareawards.com