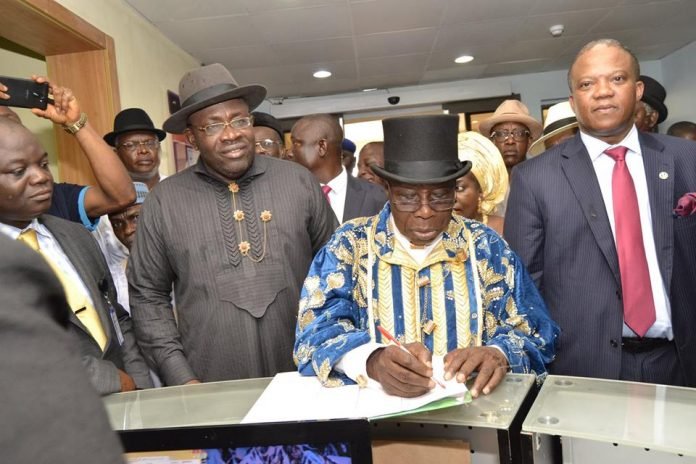 On the 16th of February 2018 the city of Yenagoa stood still as they welcomed former President Olusegun Obasanjo to Bayelsa for the commissioning of several projects to mark Hon. Seriake Dickson 6th year anniversary as the Governor of Bayelsa State Nigeria.
It was an epoch making event as most of the commissioned projects were unique in their respective sectors.
Bayelsa Diagnostic Centre BDC was initiated, built and equipped by Governor Seriake led administration, which is the first of its kind medical outfit with a public private partnership PPP management.
The Chief Medical Director, Prof. Fiemu Nwakari while delivering his welcoming address said that the diagnostic centre is an American model diagnostic healthcare outfit, which is a one-stop centre where diagnostic tests can be done with quality report guaranteed.
He further added that BDC is managed by Trigen-Craton Ltd which has an emily of mercenaries to man the state of the art diagnostic centre.
The Commissioner for Health, Prof. Ebitimitulah Etebu, said the centre was capable of taking care of the diagnostic needs of people in the State. He added that the diagnostic centre would handle its pathology and radiology services in collaboration with their international partners.
The former President while inaugurating the centrer said "what he has seen here is the same as what he sees outside the country and from now henceforth he will be having his diagnostic checkup at Bayelsa Diagnostic Center".
The center can boost of a 1.5T MRI, 160 slice CT machine, digital x-ray and mammography system, endoscopy unit, cardiology facilities and a fully automated laboratory.
www.bayelsadoagnostic.com