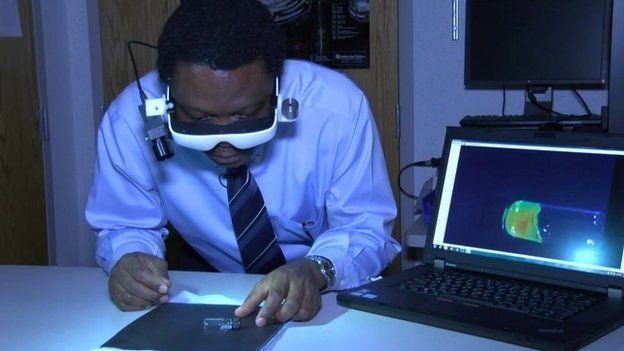 Dr. Achilefu Samuel is a Professor of Radiography, Biomedical Engineering, Biochemistry, Molecular Biophysics and the Director of Optical Radiology Lab (ORL) at Washington University in St. Louis. He led a team that developed a high tech florescence goggle that can help surgeons visualize cancer in vivo during surgical intervention leading to his receiving the St. Louis award at the Newman Education center on June 23 2015. He currently serves as the chief of optical radiology laboratory, director of the center for multiple myeloma nanotherapy, and co leader of the oncologic imaging program of the Siteman cancer center. Dr. Achilefu is a fellow of the royal society of chemistry, optical society of America as well as a member of board of trustees of Loma India University and scientific advisory board of NCI's intramural molecular imaging program. He serves as editor-in-chief of current analytical chemistry and on editorial boards of the journal of biomedical optics and scientific reports.
EARLY CHILDHOOD
Dr. Samuel Achilefu was born in northern Nigeria in the 1960s. His father worked in hospitals and clinics in the Northern part of Nigeria until the civil war broke out in 1967, during this time, he was only 4 or 5 years. Due to the menace of the war, his family had to migrate from the north to their ancestral home in the eastern part of Nigeria where they stayed until the civil war ended in 1970.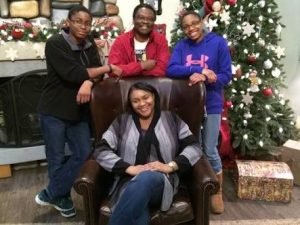 Dr. Achilefu and his family
EDUCATIONAL/CAREER
After his initial studies, he was lucky enough to have been one of the five students who won a French government scholarship and this made him attend a graduate school in France where he received a PhD in molecular and materials chemistry at the University of Nancy. After receiving a PhD in molecular physical and materials chemistry at the University of Nancy, and postdoctoral training in oxygen transport mechanisms. Achilefu moved to St. Louis, US in 1993 to join the nascent Discovery Research Department at Mallinckrodt Medical Inc.in 2001, he joined Mallinckrodt institute of radiology at Washington University. Currently, he serves as a Professor of Medicine at Washington University School of Medicine
RESEARCH INTEREST
His research interests are in the development of molecular imaging probes and therapeutic molecules, new methods, and devices for imaging and treatment of cancer and other biological applications
HONOURS AND AWARDS
* St Louis Award, St Louis Award Committee 2015
* Best Global Impact Award, We Heart Stl 2015
* Outstanding scientist fellow award, academy of Science – St Louis, MO, USA 2014
* St Louis innovator award, alive magazine 2011
* Fellow, SPIE – International society for optics and photonics 2008
* Achiever Award St Louis science center and blacks in science, MO, USA1998
* Extraordinary performance award, Mallinckrodt, Inc 1995
* Technical Innovation Award, Mallinckrodt Medical, Inc 1991
* French Government Scholar, French Government (1987-1991)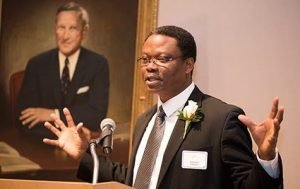 Dr. Achilefu at the reception of St. Louis award on 23 June 2015
EXPERTISE
Influenza virus, pathogen inactivation, ultrasound pulsed laser, whole activated virus vaccines, in vivo imaging, alveolar macrophage, near-infrared, lung imaging, threshold detection, near infrared fluorescence, image overlay, complementary metal oxide semiconductor imaging among other things.
THE CANCER GOGGLES
Dr. Achilefu wearing the cancer googles
The cancer goggle works on the principle of optical imaging.  Optical imaging enables real-time visualization of intrinsic and exogenous contrast within biological tissues.
According to Washington University in St. Louis, Achilefu's cancer goggles are designed to make it easier for surgeons to distinguish malignant cells from healthy cells, helping to ensure that no stray tumour cells are left behind during surgery to remove a cancerous tumor. The glasses could reduce the need for additional surgical procedures and the subsequent stress on patients, as well as time and expense. The system uses custom video technology, a head-mounted display and a targeted molecular display that attaches itself to cancer cells, giving them a 'glow' when viewed through the eye gear.
In trying to get rid of cancer tumours, surgeons often face the challenge of having to remove excess tissue around the tumour, but not necessarily getting all the cancerous tissue out. This usually necessitates to repeat surgeries, in a bid to get out all the cancerous tumours missed earlier.
However, with Achilefu's technology, are able to see precisely which tissues to cut out, all in one operation. First, they inject a specially-formulated peptide dye which can seek, and attach itself to, cancerous cells. This dye has fluorescent capabilities that make it glow at a wavelength not visible to the human eye. This is where the cancer-seeing goggles come in.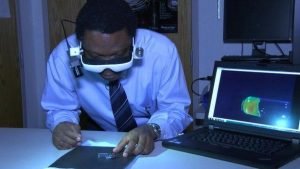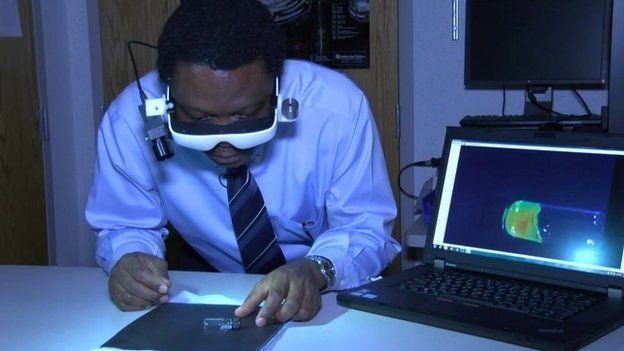 Dr. Samuel Achilefu using the cancer-seeing goggles. Photo credit: BBC
The goggles have a sensor placed in them which, according to Achilefu, "captures fluorescence from the dye lodged in cancer tissue and projects the image into the surgeon's field of view".
This creates an augmented reality that allows the surgeons to see cancer cells glowing, providing real-time guidance during surgery.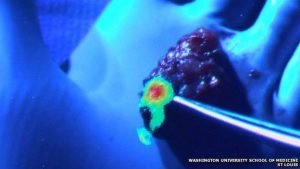 Cancer cells glowing after absorbing fluorescent dyes
References
https://www.frontiersin.org/SearchData.aspx?sq=Samuel+Achilefu&ht=2
http://africanleadership.co.uk/?s=Samuel+Achilefu+
https://en.wikipedia.org/wiki/Samuel_Achilefu
Report By: Adimekwe Gerald Ekene