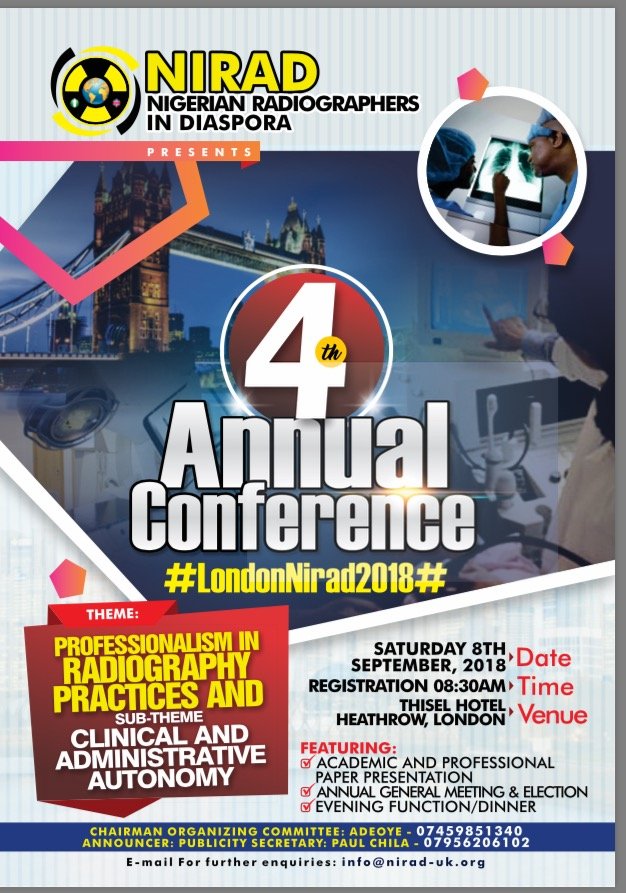 NIRAD presents a study-day tagged "Professionalism in Radiography Practices" as part of its 4th annual scientific conference and exhibition event.
The study-day/conference is aimed mainly at radiographers trained and recruited from abroad to equip them in adjusting to a new working environment. The event is equally aimed at newly qualified UK trained radiographers who intends to understand the basic concepts of professionalism in a relatively new profession, as well as experienced radiographers with a quest to engage in a unique CPD activity and share the experiences of radiographers from various cultures and background. The aim to further create a good working environment amongst radiographers in a multicultural Britain.
Several topics presented will consider the 10 HCPC's standards of conduct, performance & ethics and fitness to Practice, exploring the various aspects of radiography where standards apply in day to day practice. Sub-topics include equality and diversity, bullying, harrasment and raicism, career progression – autonomous/advanced practice, professional indemnity, etc
AGENDA
08:30 – Arrival of delegates
08:45 – Registration
09:00 – General information and housekeeping by Conference Planning Committee
09:15 – Welcome address by NIRAD President – Dr Chyke Oheugbe
09:30 – HCPC's presentation on standards of conduct, performance & ethics and fitness to practice.
10:00 – Reflections of a newly qualified UK trained radiographer
10:15 – Reflections of a radiographer recruited from abroad
10:30 – Lecture 1 – Sheila Hassan, Ex-President Society of Radiographers
11:15 – Tea break
11:30 – Reflections of on the role of an advanced practitioner (Reporting Radiographer)
11:45 – Reflections on the role of an advanced practitioner (Sonographer)
12:00 – Reflections on the role of a Superintendent Radiographer
12:15 – Lecture 2 – Exploring the roles of an autonomous/advanced practitioner – Prof Sherril Spencer, Lecturer, Kingston University
13:00 – Lunch Break
13:30 – Reflections from radiographer with impaired fitness to practice ("Struck-off")
13:45 – Lecture 3 –
14:30 – Your professional body and You – SOR, UNISON, BMUS, NIRAD
15:30 – Professional Indemnity by Callum Goulding Cert CII, Insync Insurance Solution Ltd.
16:00 – Abstract 1
16:30 – Abstract 2
16:45 – Annual General Meeting (Members only)
17:45 – Elections (Members only)
18:45 – Dinner, Award and Dance! Dance!! Dance!!!
20:45 – Departure